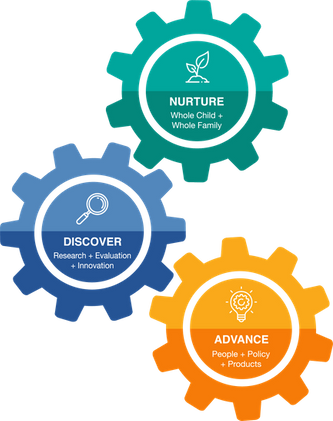 Strategic Direction
Clayton Early Learning is an innovation hub that fosters thriving, equitable communities by partnering with families to nurture a whole child, whole family approach to the early years, discover what works, and advance systems change.
Committed fiercely to the belief that healthy early childhood development offers one of the most powerful levers for ending inequality, Clayton plays a leadership role in demonstrating what's possible in the early years and the positive impact that has for children and families over time. Clayton's 20-acre campus in the heart of Denver is the home of Colorado's only Educare school, a nationally recognized model supporting children from birth to age five and their families.
We also impact systems change in Colorado and beyond through our research and evaluation services, professional development for teachers and leaders throughout Colorado, and policy and advocacy work at the state and federal level. Our direct service and systems change work impacts 20,000 children annually throughout Colorado. We believe that a whole child, whole family approach to the early years is one of the most powerful ways to address societal inequities and create a thriving community.
---
Nurture

Clayton's campus becomes a hub for thriving children and families

With the support of community partners, we will create a hub for thriving families that includes a health clinic with mental and physical health services for children and their family members, developmental services for children, and connections to resources such as nutrition, housing, and career development opportunities.

Discover

Clayton discovers what works for whole child, whole family development

Clayton will build an engine for innovation including design challenges, robust partnerships with visiting innovation fellows, next-generation research, measurement, and evaluation capacity connected to our programming, and increased capacity to translate and communicate breakthrough approaches to systems leaders.

Advance

Clayton addresses systems change through people, policy, and products

We will impact workforce innovation by developing a teaching clinic and leadership institute where changemakers develop skills to propel our whole child, whole family approach. We will influence systems leaders through policy and advocacy informed by our work with children and families, and the research and innovation generated from that work. Finally, we will share knowledge and tools with the field to enhance the quality of early childhood development across the country.

Equity

Clayton fosters an anti-racist, beloved community aligned to our core values

Early childhood development is one of the most powerful levers to create justice, opportunity, and equity. To realize that future, we must work to transform the systems and beliefs that perpetuate racism and inequity inside our organization and in our community. We will ensure our organization is racially diverse at every level, and that our policies and practices are inclusive and equitable such that all of our staff members can thrive. We will listen to our community and strive with bold humility to improve our practices and demonstrate measurable progress toward creating the beloved community.

Infrastructure

Clayton invests in essential infrastructure to support a high-functioning organization

We will make critical investments to ensure the quality of our team and operational excellence are defining characteristics of Clayton. We aim to make Clayton one of the best places to work in Colorado with talent development that supports a diverse workforce to thrive. We will transform our technology tools to enable operational efficiencies and facilitate the work of an innovation hub. Finally, we will build effective communications vehicles to broadly disseminate our work.
---