Vision, Mission, and Values
Clayton Early Learning is an innovation hub that fosters thriving, equitable communities by partnering with families to nurture a whole child, whole family approach to the early years, discover what works, and advance systems change.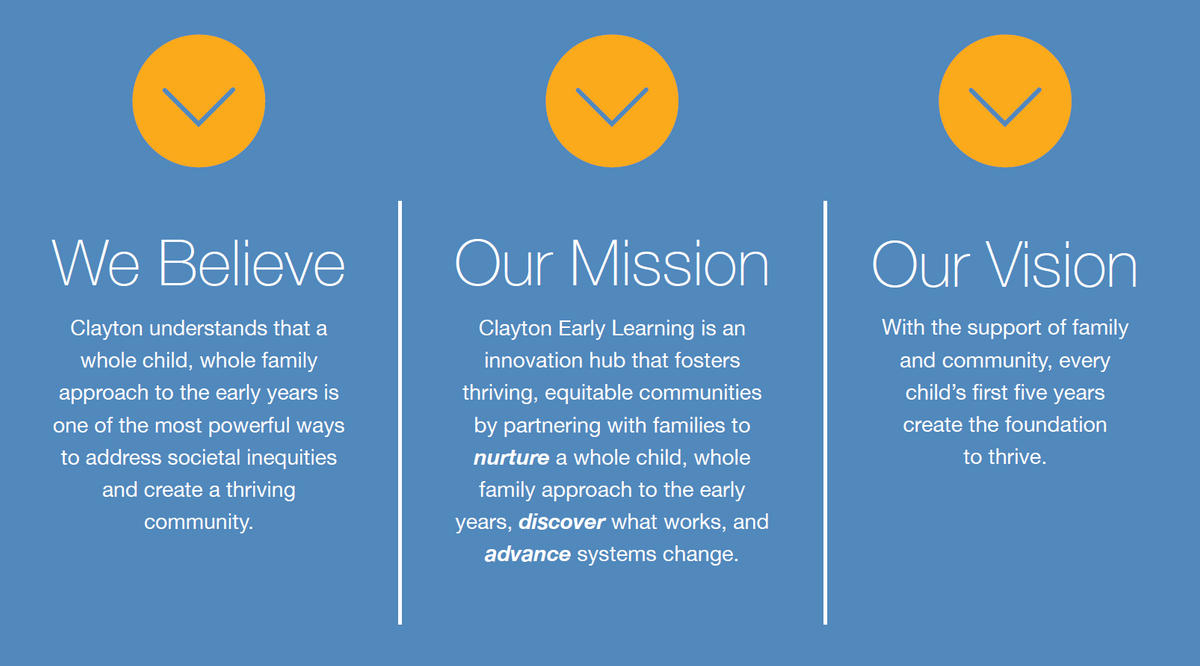 OUR CORE VALUES
At Clayton, we aim to create the beloved community*. We work to foster a community characterized by trust, dignity, love, and justice, with our children and families, our team members, and other partners on our campus and beyond. These values are foundational to Clayton's beloved community.
At Clayton we:
Value diversity, equity, and inclusion as our foundation.

At the core of the beloved community, we leverage collective genius by nurturing and embracing differing perspectives, backgrounds, and cultures. We seek to understand our differences, rather than pretending they don't affect us. We challenge our own biases, and we actively work to ensure each of us can bring all of ourselves to our work. We intervene if someone is being marginalized. We look for ways to eliminate inequities inside and outside of Clayton.

*The concept of the Beloved Community was introduced by Royce in the early 20th century and Dr. Martin Luther King developed and advanced the idea in his writings.

Operate with integrity.

We adhere to the highest standards of professionalism, ethics, personal responsibility, and accountability, worthy of the trust our community places in us.

Demonstrate bold humility.

We courageously drive toward our vision, while embracing humility that favors substance over sizzle, that accepts feedback in the spirit of growth, views vulnerability as a path to truth, and seeks impact for our families, not for recognition.

Strive for excellence.

Each day we bring our best selves and our best work to our community, creating a positive impact for our families and each other. We value continuous learning and improvement for ourselves and our work.

Innovate through collaboration.

We energize the organization, enhancing the lives of those we serve, through the ideas and unique talents of each Clayton community member and those of our partners. We lead with "How might we?" and bring curiosity to discover solutions to hard problems. We discover new approaches through collective creativity and collaborative action. We welcome a steady flow of ideas, people, and partnerships that foster a thriving learning environment on our campus for changemakers.