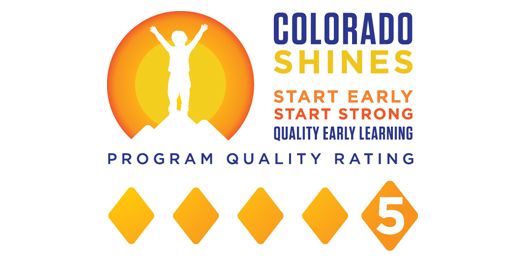 We conduct ratings using the Environment Rating Scales for programs and providers across the state, seeking a Level 3-5 for our state's Quality Rating and Improvement System (QRIS), Colorado Shines. Additionally, we review all documentation programs and providers submit as part of their rating and assign scores for each of the rating components: Workforce Qualifications and Professional Development, Family Partnerships, Leadership, Management and Administration, Learning Environment/ERS, Child Health, and Optional Points. Visit the Colorado Shines website for more information.
Colorado Shines Indicator Questions
This email will connect you to our Colorado Shines Quality Data Team where you can submit indicator questions related to the evidence guides and indicator resubmissions.
QRIS Refresh Information Sessions
As we prepared to launch the refreshed Quality Rating and Improvement System (QRIS) framework for Colorado Shines in January 2022, in partnership with the Office of Early Childhood, we offered virtual information sessions. In each session, we provided information about the refresh process, the new quality indicators, and the revised scoring system. Below are the links to the final sessions that were offered, one focused on centers and one focused on family child care homes. If you are going through your first rating using the refreshed framework, these can be great resources! 

Recorded Information Sessions
Audience: Providers and support staff; Program type: Family Child Care Homes

Audience: Programs and support staff; Program type: Centers
Colorado Shines Q&A Sessions
The Colorado Shines Question and Answer Sessions are scheduled on a monthly basis for the current month and the upcoming month CO Shines Level 3-5 participants. Registration will be made available by invitation only. This includes providers going through or coming up on a rating, and coaches and council staff that are supporting the program through their rating. Sessions occur on the third Friday of each month from 1-2:30 p.m.  The one and half hour session give programs an opportunity to ask members of the Quality Assessment Services Department clarifying questions related to the indicators, evidence documentation, and the Environmental Rating Scales. Participants can learn from questions other participants ask and are expected to submit specific questions in advance to help guide the content of the meeting. This is provided as additional support for programs participating in the Level 3-5 Rating.

Recorded Q&A Sessions
Click on the date listed below to view the most recent recorded Q&A sessions.