Effective Mindfulness, Building Responsive and Confident Educators™

EMBRACE™ is a curriculum-based mindfulness program that provides early childhood educators monthly training and weekly coaching. EMBRACE™ is not only a mindfulness program but a way of enveloping participants in a system of support, much like an actual embrace would do. While other mindfulness programs exist for teachers working with older children, EMBRACE™ was specifically designed for educators in early childhood to address the stressors so common in our field with the hope of some far-reaching impacts. We know the benefits don't just end with educators. When educators are well and systems are functioning properly, we also see positive outcomes for children and families.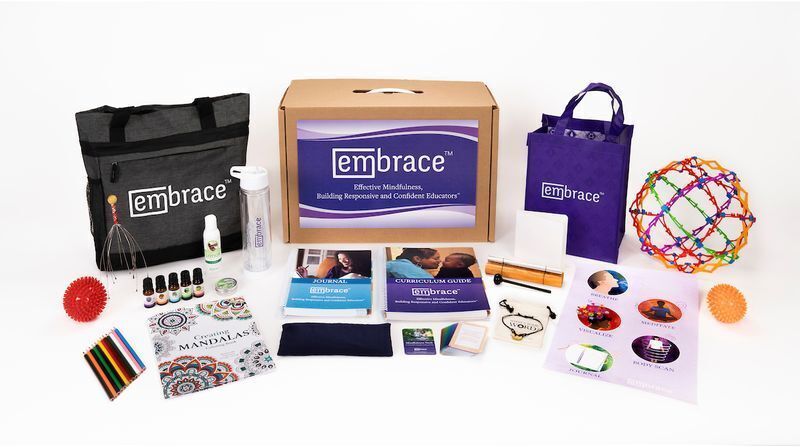 The foundation of EMBRACE™ includes five, evidence-based core mindfulness practices:
Breathing
Visualization
Body scan
Meditation
Journaling
Each month a new training module is introduced:
Mindfulness
Self-awareness
Self-development
Movement
Senses
Community
Participants also receive an individual toolkit filled with self-care items as well as a classroom kit that includes mindfulness tools teachers can use with children, such as the breathing ball and our mindfulness card deck.
---
Making Positive Changes

"One big takeaway was that it's so important to take care of myself, both outside and inside of the classroom. I can't be the best teacher if I'm not taking care of myself."
. . .
"I do feel in a way I am trying to recognize my feelings more and regulating them, especially in the moment, feel like that's one place I've improved, especially during really overwhelming moments, and when I have to make decisions and don't shut down as much, better at coping with the situation and think a little more clearly in a moment of high stress."
. . .
"With the journal, I can see what is working for me and what is not working for me, and it's reminded me how it's important to take care of myself and figure out what I need so that I can help the kids. Before, I didn't really know the importance of mindfulness, but now I know."
---
Services Provided

Clayton Early Learning provides the following EMBRACE™ services for educators and organizations:
Clayton-administered training
Clayton-administered classroom coaching
Training of trainer model
Evaluation
Technical assistance
Toolkits
Contact us to learn more about the EMBRACE™ program and pricing options.