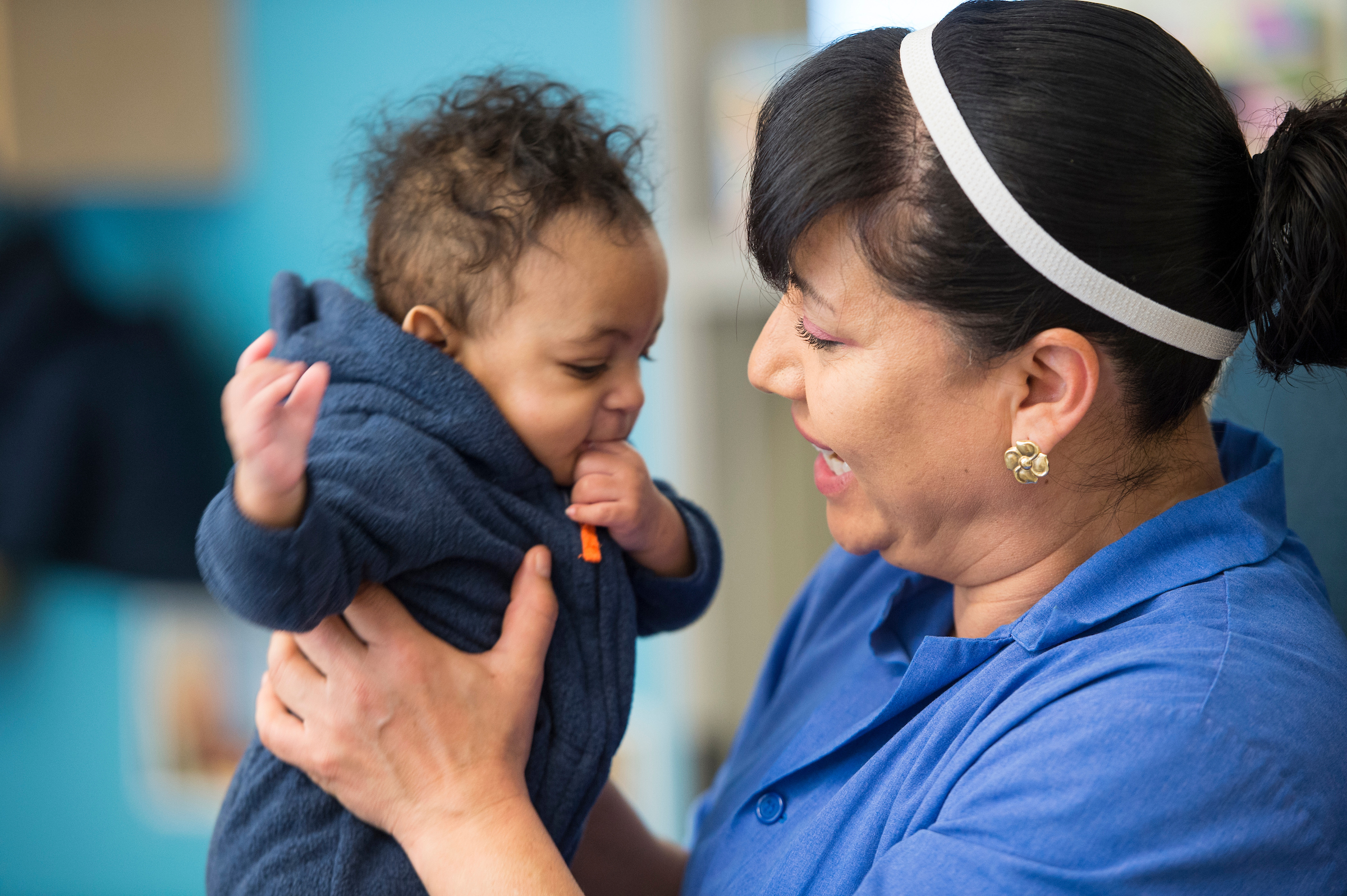 Colorado ranks among the top 12 states for the health and early learning for babies, according to a report released on Feb. 26, 2019, by national research and advocacy organizations. The State of Babies Yearbook: 2019, by early childhood development nonprofit, ZERO TO THREE, and children's research organization, Child Trends, gives Colorado top marks for policies supporting good health and positive early learning experiences, but also outlines several areas where the state falls short.
The Yearbook compiles measures of the well-being of America's babies to provide a national snapshot and comparisons across states. Nearly 60 indicators for children ages 0 to 3 measure progress across three policy areas: Good Health, Strong Families, and Positive Early Learning Experiences.
"Each of the 201,809 babies in Colorado was born with a bundle of unlimited potential and the first three years of their life will shape every year that follows," said Myra Jones-Taylor, chief policy officer of ZERO TO THREE. "But far too many babies face persistent hardships—such as food insecurity, unstable housing, and exposure to violence—that undermine their ability to grow and thrive."
"Brain development during the first few months and years of life has an enormous impact on how a child learns and grows throughout his or her lifetime," said Charlotte Brantley, President and CEO of Clayton Early Learning. "The data are clear: where babies are born makes a big difference in their chance for a strong start in life. I'm pleased that Colorado is one of the better states for babies to grow up, but we still have work to do to ensure that all of our infants and toddlers are thriving."
The State of Babies Yearbook: 2019 reveals that where you are born—and factors like race, ethnicity, and income level—can make a difference in your chances for a strong start in life. The wide variation among and within states shows how policy impacts babies and their families.
"The Yearbook shows us that proactive public policies have a big impact on the well-being of pregnant people, infants and toddlers," said Kelly Causey, President and CEO of Colorado Children's Campaign. "Leaders in Colorado and Washington, D.C., should continue to examine barriers facing our youngest residents and design policies to remove those barriers which is why we are urging our leaders to make babies a priority for Colorado as a Think BabiesTM campaign partner."
Through the partnership, the Colorado Children's Campaign, Clayton Early Learning, and a steering committee of diverse stakeholders convened the Raise Colorado Coalition, which mobilizes Coloradans to advance policies that help expecting families, pregnant people, infants, and toddlers in Colorado thrive.
Colorado's young children fare better than the national average in:
 Receiving the recommended doses of vaccines, including DTaP, polio, MMR, Hib, HepB, varicella and PCV by age 19-35 months, with 76.4 percent compared to the national average of 70.7 percent.
Receiving early childhood mental health care services. Colorado's Medicaid program covers social-emotional screenings for children birth to age 6, and covers services at home, at pediatric/family medicine practices, and at early care and education programs.
  Infants/toddlers who are eligible for evidence-based home visiting who receive it with 2.3 percent compared to the national average of 1.9 percent.
 Infants/toddlers whose parents report they read to them every day, with 50.1 percent compared to the national average of 38.2 percent or sing songs/tell stories to them every day, with 64 percent compared to the national average of 56.4 percent.
 Policies that allow for expanded eligibility for child care subsidies to include families just above low income, but funding remains limited.
Colorado's young children fare worse than the national average in:
Housing instability: infants/toddlers who have moved 3 or more times since birth, with 4.7 percent compared to the national average of 2.5 percent.
  Supportive policies such as a state-paid family leave program. Seven states have a program; Colorado does not.
From poverty and racial inequalities to access to affordable housing and child care, the littlest in America face big challenges, according to the Yearbook:
 Almost half of U.S. babies live in poor or low-income families that struggle to make ends meet.
 
 Almost 1 in 4 babies live in poverty, making children under age 3 the age group most likely to experience poverty.
 
 More than 8 percent of infants and toddlers have already had two or more adverse experiences, such as maltreatment, parental separation, or divorce.
 
 Only six states and the District of Columbia offer paid family leave, a policy that enables families to support the well-being of infants and other family members.
Access the national profile and state data at stateofbabies.org.