The Clayton Philosophy
Quality early education changes lives. At Clayton Early Learning, we see living proof of this each day as we work to better prepare young children for success in school and life. Well-documented research on human brain development shows that the prenatal-to-5 period offers the highest potential for development, as well as the highest risks. Children from low-income homes often start school lagging far behind their peers and never catch up. We succeed in closing these learning gaps through a powerful model unique to Clayton Early Learning that harnesses the synergy of our four pillars of work - research, training, practice and advocacy.
Our practice in the classroom and with families is research-based and outcome-focused to close the achievement gap for children who might otherwise have very limited opportunities for school success. Every day our teachers and the teachers we work with in other sites raise compelling questions about the effect of their work and how they might best support the success of every child. As we gather data through research and evaluation, we help teachers reflect on what the findings mean and how they can use this information to continuously inform and improve their practice. Finally, our training and coaching offerings are informed by our own teaching practice in classrooms and with parents, and incorporate the latest findings from our own research as well as from national experts and research studies. The synergy among these three dynamic initiatives of research, practice and training is a powerful engine to propel the field of early childhood education forward so that all children have access to a quality beginning.
5 Key Principles We Believe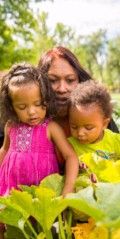 Children are competent and vulnerable - possessing extraordinary potential for learning, thinking and expressing themselves

Human learning is an active process of constructing knowledge through relationships

Research, inquiry, documentation and data dialogue support children's learning and are essential to the teaching process

Ongoing professional development, coaching and reflective supervision are a right and a responsibility