Health and Wellness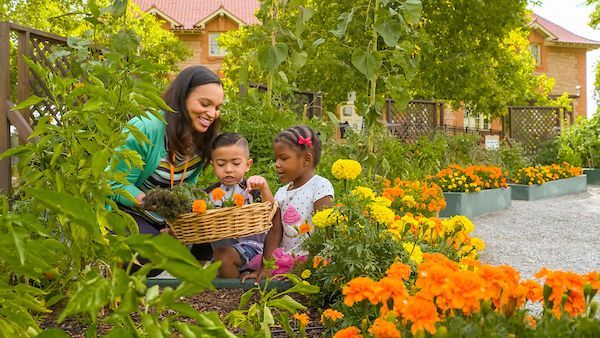 With a professional team of teachers, child family educators, nutritionists, and health professionals, children enrolled in Clayton's early childhood programs receive ongoing, comprehensive health and wellness screenings and first-line interventions.
---
Nutrition

Clayton's emphasis on sound nutrition as a basis for health and wellness ensures that children enrolled at their Denver Educare school – whether obese or underweight – trend to a healthy weight within the course of the school year. Every school day, 1,000 nutritionally balanced meals are prepared from scratch in the Clayton kitchen, including our own homemade organic baby food. Our seasonal menus introduce the children to a variety of foods, including lots of fresh produce.

Children and families at Clayton's Educare Denver School also benefit from the fresh food grown in 36 on-campus garden beds, fruit orchard, and pumpkin patch. Our garden-to-table program was the inspiration for Clayton Cooks, a collection of some of our favorite Clayton kitchen recipes.

Health Screenings

​​Children at Clayton's Denver Educare school receive ongoing, comprehensive healthcare screenings and first-line interventions twice each school year. Included are onsite dental screenings provided by Children's Hospital Pediatric Dental Clinic, as well as hearing, speech, and vision evaluations from Marion Down's Center for Hearing Speech and Language. Families also receive support and guidance to effectively navigate the healthcare system, optimizing Medicaid and Health Insurance benefits.

Mental Health

Clayton Early Learning believes that the health and well-being of our children and their families extend beyond the physical, so we offer a variety of professional services with options for onsite or virtual mental health assistance. Through our partnership with Denver Children's Advocacy Center, our mental health services are offered in English and Spanish.

We also offer Early Childhood Mental Health Consultation services, where our clinicians work directly with staff and families to develop strategies that support the social and emotional needs of children, both in the classroom and at home. Clinicians are also available to connect families with culturally relevant social and emotional supports through individual consultations, parent workshops, parent support groups, and referrals.

Early Intervention

Clayton Early Learning believes that ALL children bring value to the classroom. We focus on inclusive practice in a broader sense, such as language, race, age, gender, gender identity, and levels of development. By supporting and promoting participation, belonging, and interaction with one another, inclusion leads to an enriching experience for all children.

To support our inclusive practices with children, families, and staff, our team includes an Early Intervention Specialist, who works with our Early Head Start children, ages birth to three years; and an Inclusion Coordinator, who provides support for our Head Start children ages three to five years. This professional team coordinates all disability services, including Individual Family Service Plans (IFSP) and Individual Education Plans (IEP), and ensures that every child receives appropriate support, including assessment, implementation, and facilitation of the referral services.

Social-Emotional

Clayton recognizes the important role that social-emotional skills play in school readiness. We prepare all educators with the tools they need to ensure a safe and connected classroom through training in our Social-Emotional Curriculum, Conscious Discipline®.

Conscious Discipline® is an evidence-based, trauma-informed discipline approach that creates an environment where everyone can develop in a way best-suited for them—including adults! Conscious Discipline® integrates classroom management with social-emotional learning, using everyday events as part of our school's curriculum, and addresses the adult as well as the child.

We focus on:

• Teaching children the social-emotional and communication skills necessary to manage themselves, resolve conflict, and develop pro-social behaviors.
• Creating a School Family™ that builds connections between families and schools, teachers and teachers, teachers and students, and students and students to ensure the optimal development of all. We believe that nurturing a sense of belonging within our School Family™ is the key ingredient to fostering children's willingness to learn and develop.
• Constructing routines, rituals, and structures that encourage intrinsic motivation, helpfulness, problem-solving, and connections.

Learn more about Conscious Discipline.