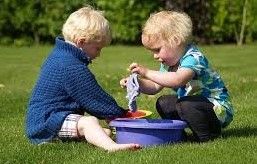 Did you know that all Clayton classrooms have something called a "sensory table?"  This is a container that teachers add different materials to for children to experience and explore different textures, and water is one of most children's favorite. The good news is – you can easily support water play at home, and it is both enjoyable and educational. 
You may be wondering how water play is different from bath time, and in a lot of ways it is very similar. The biggest difference is that water play outside of the bathtub allows children to really "feel" the water in a different way than when they are submerged in it. 
Problem-solving skills
When children are able to experiment with water and other objects it gives them the opportunity to make discoveries.  Does a leaf float or sink? What happens when I throw a rock into water? Most importantly, water play allows children to use their imaginations, which helps develop creative thinking skills. 
Motor skills
Water play also offers children many opportunities to develop fine and gross motor skills.  Children can pour, squirt, scrub, stir, squeeze and splash, to name a few. 
Materials:
Container for the water (for younger children, you don't need much water at all; using  a cookie sheet with water on it is a perfect way to give them just a little exposure to it.
 Leaves, sticks, rocks (whatever natural materials are around).
Blocks, cups, cars, bath toys (the ideas are endless).
 Washcloth/sponge (for the water play)
Towel (to dry up later)
Kids will instinctively explore the water, but you can help model different ideas for them, like pouring the water back and forth into cups, washing a toy with a sponge, or asking questions about what it feels like (cold, hot, wet, dry, slippery, slimy, etc.) 
Have fun with your child, and remember – water play must be supervised at all times.
___________________________
¿Sabías que todas los salones de Clayton tienen algo llamado "mesa sensorial"? Es un recipiente donde los maestros pueden agregar diferentes materiales donde los niños pueden experimentar y explorar una variedad de texturas, y el agua es uno de los materiales que más les gusta a los niños. La buena noticia es que ustedes pueden fácilmente apoyar el juego con agua en casa, y a la vez hacer algo divertido y educacional.  
Se estarán preguntando, cómo jugar con el agua puede ser diferente de la hora de baño en la tina, y la verdad en varias maneras es algo similar. La gran diferencia es que jugar con el agua fuera de la tina de baño les permite a los niños realmente "sentir" el agua en una manera diferente que cuando ellos están sumergidos en el agua.
Habilidades de Resolución de Problemas
Cuando los niños se les permite experimentar con el agua y otros objetos les da la oportunidad de hacer descubrimientos. La hoja del árbol flota o se hunde? Que pasa cuando echo una roca en el agua? Y más importante, el agua permite que los niños usen su imaginación, lo que les ayuda a desarrollar habilidades de pensamiento crítico. 
Habilidades Motrices 
El jugar con agua también les ofrece a los niños muchas oportunidades para desarrollar habilidades del motor grueso y el motor fino. Los niños pueden verter, hacer chorros, apretar, restregar, remover, y salpicar, por nombrar algunas de las cosas que pueden hacer. 
Materiales:
Recipiente para el agua (para niños más pequeños, no necesitan mucha agua; pueden usar una charola para hacer galletas con agua, es una manera perfecta de darles la experiencia.
Hojas de árboles, palos de ramas, rocas, (cualquier material natural que encuentren a su alrededor)
Toallitas para lavar, esponjas (para jugar con el agua)
Toallas (para secar al final)

Los niños explorarán instintivamente  el agua, pero ustedes podrían demostrar diferentes ideas para ellos, como verter el agua en tazas una y otra vez, lavar un juguete con una esponja, o hacer preguntas sobre como que se siente lo que toca (frío, caliente, húmedo, seco, resbaladizo, baboso, etc.)
Diviértanse con su niño(s) y recuerden -- se debe supervisar al jugar con agua en todo momento. 
Se puede jugar en el agua adentro y afuera de la casa - sólo asegúrense, si es adentro, que hayan colocado el recipiente de agua en un lugar seguro y que tenga toallas para secar al finalizar la actividad (salpicar es MUY divertido).