Clayton families are supported in creating a learning environment at home that builds on classroom learning and have many opportunities for ongoing engagement in their child's education. Special events and training opportunities are offered throughout the year, providing parents and caregivers a variety of avenues to stay connected with their Clayton school community. Our Fatherhood Committee and Family Engagement Team offer a wide range of activities throughout the school year that celebrate and honor all families in their critical role as a child's most important teacher.
Governance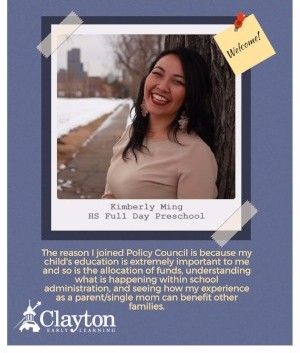 Policy Council members are elected by other enrolled families and have an important leadership role in our school community.
As a Head Start and Early Head Start provider, Clayton Early Learning maintains a Policy Council comprised primarily of parents and caregivers from each program option who are elected by their peers. The Policy Council empowers parents and caregivers as advocates for their children who have an active voice in policy making and program decisions at Clayton, including:
Approve/disapprove program directions, priorities, policies and budgets
Monitor program compliance with federal Head Start guidelines
Participate in the personnel selection of central staff members
Approve/disapprove personnel policies per the Revised Performance Standards
Maintain involvement in the community and promote the program
Click here to learn more about Head Start governance and policy councils.
---
Family Meetings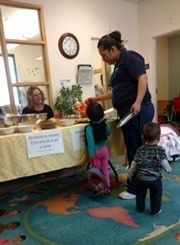 Family meetings provide information about community resources and other family supports.
Child Family Educators and teaching teams work in collaboration to host monthly family meetings where parents and caregivers receive information about child development, classroom updates, parenting topics and community resources. In addition to monthly meetings that are specific to the enrolled child's classroom, all enrolled families are invited to attend 'all-Clayton' quarterly family meetings where they can connect with families enrolled in various Clayton programs. 
Research shows that children whose parents are involved in their education do better in school. Getting involved also prepares families to be active once their children enter elementary, middle and high school.
---
Clayton Alumni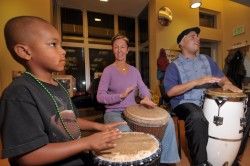 Culture night is a favorite annual celebration where Clayton families from past and present explore cultures from around the world.
Children and families who have transitioned from Clayton to kindergarten and other primary school grades are invited to stay connected with the Clayton Community through our alumni program. Parents and caregivers who are interested in paying their Clayton experience forward are encouraged to support other transitioning families, volunteer in the program as a guest reader or to join us for special events like Culture Night and our Family Engagement Fair. Former families who wish to stay involved with Clayton Early Learning can also follow our social media accounts and subscribe to our quarterly newsletter.