Make An Impact
Volunteers make a significant impact on the lives of Clayton's children, families, and staff. We are always in need for members of our community to lend a helping hand. Opportunities to volunteer will vary and you will find those listed below. If you are interested in becoming a Clayton volunteer, please fill out the form and a member of our team will contact you soon. Volunteers are required to wear masks and will be required to sign a waiver and provide proof of COVID-19 vaccination.
If volunteering isn't an option for you, the Market is always grateful for donations!  If you have gently used clothing/shoes, puzzles, games (no tiny pieces under age 3) household goods (e.g., towels, blankets), or toys, please reach out to Joan Deming for more information.
Volunteer Opportunities
---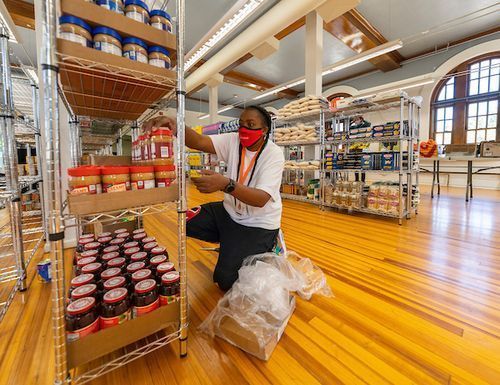 Clayton Cares Market
Clayton is currently accepting volunteers to help with our Clayton Cares Market! The Market is open to Clayton families and staff, providing fresh produce and meat, non-perishables, essential household items, and more all for free. At this time, the Market is open on Thursdays, from 7:30 a.m. to 9:30 a.m., and again from 2:30 p.m. to 4:00 p.m., but there is also a need for volunteers on Tuesdays and Wednesdays. Volunteers receive monthly emails to sign up for time slots in the following month.
Tuesdays and Wednesdays
Volunteers will help the market team unload and organize new shipments
Thursdays
Volunteers will assist families during market hours, and help keep the market organized and clean.