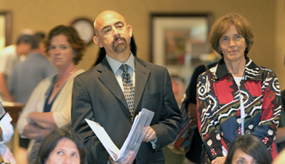 This project operated on two mutually reinforcing levels -- addressing quality improvement from the ground up, as well as the policy level down. The day-to-day work of program improvement, anchored by the NAEYC accreditation process, was conducted by the Community Colleges, supported with technical assistance from Clayton Early Learning and the Community College System.  The project also convened key state-level agencies involved in Early Childhood professional preparation to consider the policy infrastructure needed to support quality improvement and adequate capacity in Community College EC programs across Colorado and over time in the context of the state's overall vision and framework for Early Learning.  

The structure of the partnership was defined by two documents, the award letter from The Boettcher Foundation to Clayton Early Learning and individual MOUs entered between the colleges and the Partnership (See Resources tab).  Subgrants to individual colleges were based on the number of students served and were used to support accreditation, faculty development, curricula development and student support.  Each college submitted a detailed project plan that incorporated the steps in the accreditation/program improvement process.  Colleges reported progress and program data quarterly. 
The Funder as Strategic Partner: The Boettcher Foundation
In 2007, the Boettcher Foundation began investing in early childhood at Clayton Early Learning in a very big way.  The first investment supported a capital campaign with a $2 million gift to transform a boarded-up dormitory on the Clayton campus into an Early Childhood Training Center serving over 12,000 EC professionals annually. Quite literally, the Boettcher investment helped to turn the lights on at Clayton Early Learning and helped provide a beacon for early learning in Colorado.  In combination with the capital contribution, the Boettcher Foundation made an additional investment of $800,000 in general operations to increase the number of EC professionals trained through the Institute at Clayton Early Learning and to improve EC teacher preparation. 
The Boettcher Foundation's next investment of $750,000 in the Colorado Community College Project offered critical resources and a structure for program improvement aligned with national standards to Colorado community college programs that prepare early childhood professionals.  Boettcher deserves significant credit for the bold scope and success of this project.  The foundation's leadership drew the community colleges to the table to pursue NAEYC associate degree program accreditation/program improvement as a statewide cohort.
For more information, visit the Boettcher Foundation.
Engaging State-Level Partners
Convened by Clayton Early Learning, representatives from the following state agencies met quarterly throughout the project to review project updates, provide guidance about the project's data collection efforts, plan statewide faculty development for Colorado EC faculty linked with accreditation and program improvement needs, and identify opportunities to enhance program quality over the long term through systems building and policy work:
Colorado Community College System:  empowering Colorado Community College Presidents and Vice Presidents of Instruction to play leadership roles in increasing support for EC Departments.
Colorado Early Childhood Faculty Coalition:  leading the effort to review and renew all key courses based on college competencies and to identify the skills that early childhood professionals will gain through certificate and degree programs. (The Coalition, in operation for over 15 years,  includes ECE Chairs and faculty from Community Colleges across the state.)
Colorado Office of Professional Development (now named the Early Childhood Professional Development Team in the Office of Early Learning and School Readiness at CDE):  updating Colorado's Core Knowledge Standards, mapping standards to Community College EC courses, and providing support to CCC Online.
Qualistar: measuring quality based on education levels of staff (one component of 4 Star Rating) and providing resources to increase the number of EC professionals completing college-level courses and degrees (TEACH program).
Colorado Department of Human Services; Division of Child Care:  connecting childcare licensing with EC teacher preparation programs and providing incentives to increase the quality of EC programs by requiring college-level education courses for all licensed professionals.
Colorado Department of Education – Early Childhood Department:  establishing Early Learning Guidelines for Colorado's children birth to eight, disseminating Successful Practices for Curricula, Instruction and Assessment, and funding/coordinating EC programs across Colorado.
Colorado Department of Higher Education – Teacher Education:  working together with CDE in reviewing all teacher education programs leading to initial licensure and recommending them to the Colorado Commission of Higher Education for approval; developing articulations agreements between two-year and four-year institutions.
The Head Start Collaboration Office/Lt Governor's Office:  working to build early childhood systems and enhance access to comprehensive services and support for all low-income children; encouraging collaboration between Head Start and other appropriate programs, services, and initiatives.
State-Level Data
An important project focus was collecting and tracking statewide data about Colorado Community College EC departments and faculty, a new undertaking in our state.  Project partners recognized that the capacity to collect and aggregate data statewide contributes to data-based decision making at the state policy level.  Moreover, the debate about what to measure helps clarify system purposes and values.  
However, the statewide data collection work was complicated by differences across programs in data collection mechanisms and even data definitions.  Going forward,  the Colorado Early Childhood Leadership Commission is engaged in development planning of a robust statewide data system to track demographics and effectiveness.   This system will include a registry and learning management system to support the Early Childhood workforce. 
Implications for State EC Professional Development System
Colorado EC leaders envision a higher education system that can measure educators' knowledge and skills, that is fully aligned between two- and four- year programs, and that embraces innovation. 
The Colorado Department of Education (CDE) and the Colorado Department of Higher Education (CDHE) approve educator preparation programs.  Community College early childhood programs currently do not fall within this system, but instead are governed by the Colorado Community System.  Accordingly, the NAEYC accreditation process filled a major gap in ongoing state efforts to align birth to age 8 educator preparation programs with national standards. Significantly, its focus on what early childhood professionals "know and can do" requires colleges to demonstrate that they are preparing effective teachers for today's classrooms.  The NAEYC standards also play a role in the state's efforts to align developmental and learning outcomes for children, early childhood professional competencies, teacher preparation programs, and Colorado Standards for Effective Teachers and Leaders (see Resources).
NAEYC accreditation also is an important tool for supporting alignment across two- and four-year programs and Colorado's emerging competency-based Early Childhood Professional Development system.  The NAEYC core standards are used by both NCATE (the National Council for Accreditation of Teacher Education, the organization that accredits teacher certification/licensure programs) and NAEYC accreditation systems and across associate, baccalaureate and graduate degree levels. The Initial Standards are used in programs preparing candidates for first-time early childhood licensure and for positions in early learning settings that do not currently require licensure.
Colorado faces two major policy questions related to the future evolution of this work:
Should the state integrate associate degree early childhood programs into the current structure of CDE/CDHE oversight of educator preparation programs? 
What is the relative cost effectiveness of maintaining NAEYC accreditation over time versus applying the state's approval process of teacher preparation programs?
The Colorado Early Childhood Educator and Director Workforce Competencies, currently in development, will ideally (i) be informed by the most current research in the early childhood field; (ii) build on the best practices and experiences of other states;  (iii) be simple to understand and use by various stakeholder groups; (iv) align with Colorado's new Quality Rating and Improvement System and Colorado's new Early Learning Guidelines;  and (v) seamlessly integrate with other initiatives to prepare and improve the effectiveness of teachers throughout Colorado's education system. 
After the Colorado EC Educator and Director Workforce Knowledge and Competency Framework has been developed and formally adopted, the following PD systems will be aligned to the Framework:
CDHS Child Care Teacher and Director Approval and Credentialing System
CDE Teacher and Principal Licensure and Educator Effectiveness Initiatives
Tiered Quality Rating and Improvement System (TQRIS (CDHS Rated Licensing)
Colorado Community College System (CCCS): Community College ECE/EDU Competencies
Colorado Department of Higher Education/Colorado Dept. of Education Public and Private Colleges and Universities Teacher Preparation Approval System and Four-Year Degree Programs
Colorado Department of Human Services Approved Trainings/Trainers
Looking Ahead:  Colorado's opportunity to access federal Race to the Top Early Learning Challenge Grant funds in 2013 will accelerate the pace and scope of efforts to advance this evolving EC professional development system. Stay tuned.