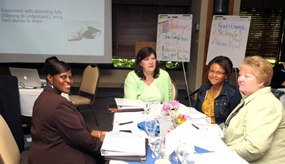 Professional Development Opportunities for Community College Faculty
Why It Matters:  Research shows that young children thrive with support from great teachers.  The same is true in higher education.  To promote excellence in Colorado's EC workforce, Clayton Early Learning supports access to professional learning opportunities that enable Colorado's EC faculty to keep up-to-date with the latest research, use the most effective adult learning practices, and measure impacts that are linked to improved results for young children.  Research suggests the most effective professional development activities are evidence-based, of sufficient duration and intensity, ongoing, and ideally, reinforced by coaching. 
Impact of Accreditation:  The NAEYC accreditation-driven program improvement process engaged EC programs in considering the role of EC faculty development in enhancing and maintaining program quality.  This consideration involved reviewing current activities, identifying gaps and needs, and articulating possible next steps to address these needs.  All of the participating EC programs acknowledge the critical importance of  EC faculty development.  Yet, for many programs, the ongoing recession and constricted budgets limit the resources available to address current and future needs.  Some participating EC programs used the accreditation process to secure additional support for faculty professional development at the college-level.  Others sought ways to partner more closely with organizations in their communities or their peer EC programs to meet EC faculty development needs.
Project Support for EC Faculty Professional Development:  Significantly, the Boettcher Foundation's grant to fund this project encompassed two types of support for EC faculty professional development.  The first was program improvement funds, allocated to the programs based on enrollment.  Programs submitted an annual budget proposing how these funds would be spent and enjoyed great latitude to deploy these resources to meet identified needs.  Some programs used these funds to support participation by EC faculty of annual NAEYC professional development conference or other professional learning activities. 
Second, Boettcher provided funding to support an annual EC Faculty Institute hosted by Clayton Early Learning for three years (2010 -2012).  These intensive, three-day Institutes drew EC faculty from across the state with content geared to address needs identified through the accreditation/program improvement process.  A design team comprised of Clayton Early Learning staff, the project partners and community college early childhood faculty developed the program for each Institute.  The perspective of the  faculty members was invaluable in identifying the needs and interests of the target audience. 
A unique aspect of the Institute design is that it served both full-time and adjunct faculty.  Historically, professional learning opportunities for adjunct faculty members have been particularly limited.  In 2012, the Summer Institute was expanded to also include EC faculty from four-year colleges and universities.  Strong faculty relationships between two-year and four-year instructors and professors contribute to more seamless articulation between two-year and four-year programs, and ultimately, better outcomes for our early childhood professionals. 
2010 (Inaugural) Summer Institute
The inaugural Institute, Supporting and Engaging the 21st Century Learner, was attended by 80 EC program faculty members from across Colorado.  The event was held June 24-26 at  Arapahoe Community College's Chaparral Campus in Parker.  The Institute program highlighted teaching and course management, with an emphasis working with diverse adults, integrating STEM content in existing courses, updating computer skills, and exploring coaching techniques.  Sessions were led by Clayton Early Learning staff and Colorado-based early childhood professionals. Participants expressed enthusiasm about the content and utility of this learning opportunity as well as the convenience of its late-June date.   
2011 Summer Institute
Developing Learning-Focused Relationships in College Classrooms was held June 23-24 at Park Hill Golf Club and June 25 at Clayton Early Learning in Denver.  The Institute drew 78 adjunct and full-time EC program faculty as well as EC Community Coaches from all parts of the state. 
The Institute's content focus was connecting faculty and community-based coaches, as both groups enhanced their knowledge about developing learning-focused relationships in classrooms and working with diverse adult learners.  The two-day session on learning-focused relationships was presented by an international consultant with expertise in effective and innovative instructional practices and on building professional and organizational capacities for enhanced learning.  The one-day session on working with diverse adult learners was led by community college development education faculty. 
Participants who completed evaluations of the Institute indicated that the skills and knowledge they gained would help them in developing effective courses, and that the opportunity to connect with community coaches would enable them to better meet the needs of their communities. 
2012 Summer Institute
The three-day 2012 Institute, Four Piece Jigsaw Puzzle, was held June 28-30 at the Community College Lowry Conference Center in Denver.  Seventy adjunct and full-time EC program faculty from all parts of the state attended. 
The Institute had two primary emphases.  A two-day session on aligning NAEYC standards with key program assessments and collecting and analyzing student data was offered.  Barbara Ann Nilsen, early childhood textbook author and professor emerita at Broome Community College in Binghamton, New York and Marsha Swanson, professor emerita from Iowa Lakes Community College in Emmetsburg Iowa led this session.  The Institute also featured an extension session on strategies for working with diverse adult learners led by community college development education faculty.  
In their evaluations of the Institute, participants identified the content as valuable and directly applicable to their jobs, especially information related to developing rubrics and collecting data from the key assessments aligned with the NAEYC professional standards.
Looking Ahead
The Boettcher Foudation has generously agreed to continue its financial support of the Institutes in 2013 and 2014. 
Project partners are currently discussing the format, dates and content focus of the 2013 Institute.  Specific program and registration information will be available from this site by spring 2013.