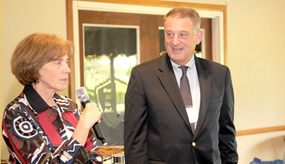 The National Association for the Education of Young Children (NAEYC) Commission on Early Childhood Associate Degree Accreditation reviews and accredits associate degree programs in colleges and universities that demonstrate evidence of meeting NAEYC's Professional Preparation Standards. The accreditation process provides a valuable structure for quality improvements anchored in these national standards, including updating and aligning courses, examining the effectiveness of specific evidence-based program components, and especially, measuring student outcomes. 
Most programs follow a timeline of at least two years from application, to submission of the program Self-Study Report, to the Peer Review site visit, to the Commission decision.  Once they earn accreditation, programs submit an annual review and complete the full accreditation process on a seven-year cycle.  Since the accreditation system began in 2006, 154 programs in 28 states have earned accreditation from the Commission on Early Childhood Associate Degree Accreditation. More than 100 additional programs are currently in self-study in 12 additional states.  For more information on accreditation and its' components, visit http://www.naeyc.org/accreditation. 
What We Did: Process and Timeline
The Spark (summer 2007):  Interested in understanding the role the NAEYC's new accreditation program for Community Colleges might play in supporting quality professional development for those in the early childhood field, representatives from Clayton Early Learning attended training sessions at the June, 2007 NAEYC Professional Development Institute in Pittsburgh.  Following the training, Clayton Early Learning  presented an initial proposal to the Boettcher Foundation to support the pursuit of accreditation by a small cohort of colleges, with statewide roll-out occurring later.  The Boettcher Foundation encouraged a bolder path -- the pursuit of accreditation by a statewide cohort of all community college early childhood programs -- and funded the initial planning phase of the project.
Information Gathering (fall 2007):  Clayton Early Learning conducted information sessions for community college representatives.  EC departments met with college Vice Presidents and Deans to determine internal support for pursuing NAEYC accreditation.  Interested departments also completed an Accreditation Needs Assessment Survey. 
Funding/Planning (2008-2009):   Based on partner discussions and the results of the needs assessment, the Boettcher Foundation awarded a grant of $750,000 ($250,000 annually for three years) to Clayton Early Learning to coordinate the project.  This budget included grants to individual colleges (based on enrollment) to support accreditation, faculty development, curricula development and student support.  Presidents from participating colleges signed a letter of support and the Colorado Community College System office completed the contracting process for colleges in their system.  Each college submitted a detailed project plan incorporating the steps required to complete accreditation. 
Ultimately 14 of the 16 (88%) Early Childhood Education programs at Colorado Community Colleges joined the project.  Ten programs pursued accreditation.  Four programs  that were not eligible for accreditation because of size engaged in the program improvement process.  (The program improvement process involved completion of the NAEYC self-study with a site visit by and feedback from a state team whose visits were coordinated by Clayton Early Learning.  In addition to driving changes that enhanced  program design, delivery and accountability, completion of this process positioned these programs to pursue formal accreditation should their eligibility status change in the future.)
Completing the Self-Studies (2009-2011):  In 2009, EC programs launched the formal accreditation process with NAEYC.   Participating programs worked within and across colleges to revise course competencies, develop curricula, collect and report standard data, and explore key assessments and grading rubrics.  The self-study process encompassed detailed consideration of various aspects of the program:
Program Context:  mission and role in community, conceptual framework, program of studies, quality of teaching, quality of field experiences
Students:  qualifications and characteristics, student advising and support
Faculty:  qualifications and composition,  responsibilities, and professional development
Program Organization and Resources
Key Learning Opportunities and Assessments:  courses and field experiences aligned to NAEYC standards
Student Performance Data:  evidence of student performance related to NAEYC standards and supportive skills
The ten programs pursuing accreditation submitted Self-Study Reports to NAEYC in January 2011.  The reports were accepted as complete and on-site accreditation visits were scheduled for October 2011. The four programs completing program improvement completed their self-studies in spring of 2011. 
The Site Visits  (fall 2011): Teams of peers from other states visited each program over a period of two and a half days to meet with key stakeholders, observe the program in action, and gather and examine additional information related to the accreditation decision.  Representatives of participating EC programs indicated that preparation for the site visits was the most stresssful and challenging part of the process. 
Many of the documents and forms referred to in this section are available in the Tools tab.
The Colorado Model: A System-Wide Focus and Success
With the generous financial support of the Boettcher Foundation, and project leadership by Clayton Early Learning, Colorado Community Colleges pursued the NAEYC associate degree accreditation process as a cohort group.  The advantages to this approach included system-wide quality improvements and the sharing of expertise and learning across institutions.  Colorado is among only three states to support NAEYC associate degree accreditation statewide, and the only one that offered substantive funding to colleges to support the process.   To drive the quality improvement efforts associated with accreditation, the project also provided ongoing faculty development for all Community College EC faculty, the only state in the nation to do so. (link to pd box)
In 2011, 10 Colorado Community College EC departments completed the rigorous NAEYC accreditation self-study and hosted fall 2011 accreditation visits from NAEYC-sponsored peer review teams.   Four additional Community College EC departments (that were too small to pursue accreditation) completed the same self-study and hosted state level visits. The coordinators of EC programs that completed the accreditation or program improvement process captured reflections of their experiences (including challenges, benefits and impacts) shortly after the site visits.  Common impacts included
The opportunity to better sequence and align courses with national standards
Increased focus on assessing student outcomes
Enhanced awareness of the EC program and its commitment to professionalism within the college and community.  
The opportunity to engage in cross college collaboration and sharing.
In March 2012, the NAEYC Commission on Early Childhood Associate Degree Accreditation awarded accreditation to nine Colorado Community College Early Childhood Programs.