Coaching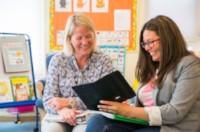 Coaching is a key strategy in effective professional development. It is a learning process based on a collaborative relationship that is intentionally designed to promote sustainable growth in the necessary attitudes, skills, and knowledge to effectively implement the best practices for the development of young children and their families." – Colorado Coaching Consortium, October 2008.
Clayton Early Learning provides coaching services through a variety of Early Childhood Coaching Initiatives. For more information on coaching services, please contact Lynn Andrews at landrews@claytonearlylearning.org. Or, find out what you can expect when working with a coach.
Clayton is also a member of the Colorado Coaching Consortium, which has developed a set of standard early childhood coaching competencies to inform professional development for coaches. These competencies are currently under review by coaching agencies and individuals around the state. You can view the coaching competencies PDF and send comments.