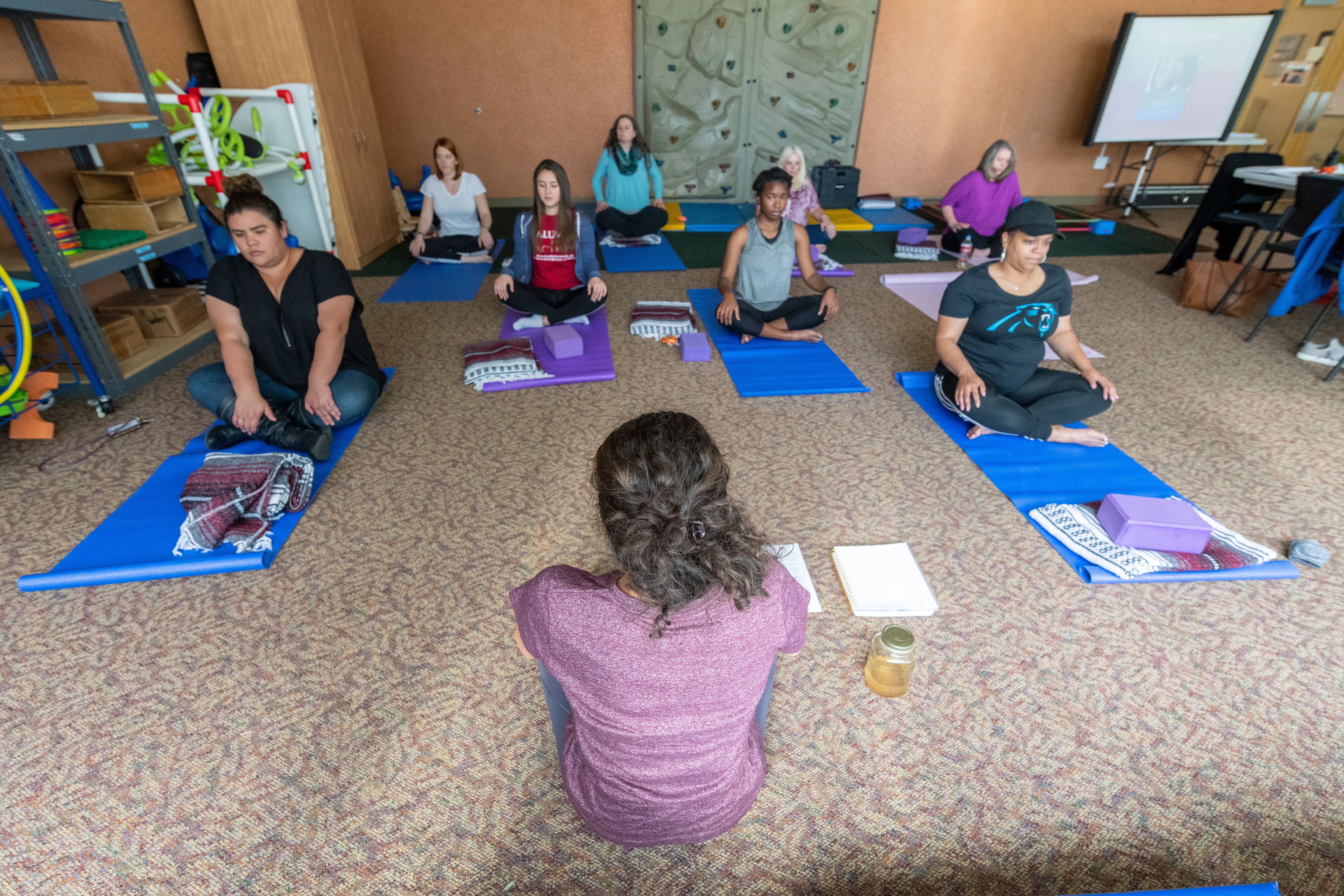 Have you ever heard a flight attendant give the instructions to put the oxygen mask on yourself before helping others?  Well, there is a VERY important reason for this. If you run out of oxygen yourself, you can't help anyone else with their oxygen mask. This is a great metaphor for those who spend a lot of time helping others. 
 As a parent or caregiver, you not only have to make sure that you are taking good care of yourself through ongoing self-care, but you also need to realize when you need a break.  Think about the times when you are overtired or when your child is pushing every last button of yours and you think you might lose it.  Below is a quick strategy to help you ground yourself in the moment so that you are able to respond to your child in a helpful and positive way.           
1. Place one hand on your belly and one on your chest.
2. Take a deep breath into your belly and feel your hand rise.
3. Exhale slowly and gently through your lips, like you are blowing on hot soup.
4. Repeat two to four times.
5. Now, decide the best way to respond.
If you need additional support right now, please feel free to access the Clayton Family Liaison Program, a free and confidential resource for parents and caregivers. The program offers social/emotional and mental health support. All services are culturally sensitive and offered in both English and Spanish. 
Through the Clayton Family Liaison Program, you may get help for yourself, your relationship or your family and learn how to better take care of yourself. The program can also help you take steps toward reaching your personal goals.
Program provides support for:
Individuals
Groups
Couples
Families
Program provides helps with issues such as:   
Parenting
Relationships
Relocation
Transition
Stress and relaxation
 
The Clayton Parent Liaison Program is now offered virtually through a secure and confidential system.  To access the program, please contact:
Meagan Rohde
MRohde@claytonearlylearning.org
720-744-2106

Padres: Necesitan cuidarse a ustedes mismos también!
¿Han escuchado a las sobrecargos de un vuelo dar las instrucciones acerca de ponerse primero las máscaras de oxígeno uno mismo antes de ayudar a otros? Bueno, hay una razón MUY importante para esto. Si ustedes se quedan sin oxígeno, no podrían ayudar a nadie más a ponerse sus máscaras de oxígeno. Esta es una excelente metáfora para aquellos que invierten mucho de su tiempo ayudando a otros.
Como padres o cuidadores, no solamente tienen que asegurarse que están cuidando de sus mismos por medio de un autocuidado continuo, sino que también necesitan darse cuenta cuando necesitan un descanso. Piensen en los momentos en que han estado cansados o cuando su hijo ha empujado hasta el último de sus botones y uds. han creído que perderán el control por completo. En los siguientes párrafos, encontrarán estrategias prácticas que les ayudará a mantener el control de ustedes mismos en esos momentos para que puedan responder a su hijo de la manera más positiva. 
1. Coloque una mano en su vientre y otra en su pecho. 
2. Respire profundamente en su vientre y sienta cómo su mano se eleva. 
3. Exhale lentamente y gradualmente por sus labios, cómo si estuviera soplando una sopa caliente. 
4. Repita dos o cuatro veces.
5. Ahora, decida la mejor manera de responder. 
Si necesita apoyo adicional de inmediato, por favor siéntase libre de acceder al Programa de Enlace Familiar de Clayton, una ayuda gratuita y confidencial para padres y cuidadores. Este Programa ofrece ayuda social/emocional y mental. Todos los programas son culturalmente sensibles y son ofrecidos tanto en inglés como en español.  
A través del Programa de Enlace Familiar de Clayton usted puede conseguir ayuda para usted, su relación, o su familia, y aprender cómo cuidarse mejor. También el programa puede ayudarle a dar los pasos para alcanzar sus metas personales. 
El programa proporciona apoyo para:
Individuos
Grupos
Parejas
Familias
El programa proporciona ayuda con asuntos como:
La crianza de los hijos
Las relaciones
La mudanza/reubicación
La transición
El estrés y la relajación
El Programa de Enlace Familiar de Clayton ahora se ofrece también virtualmente a través de un sistema seguro y confidencial.
Para acceder al programa, por favor contacte a: 
Meagan Rohde
MRohde@claytonearlylearning.org
720-744-2106