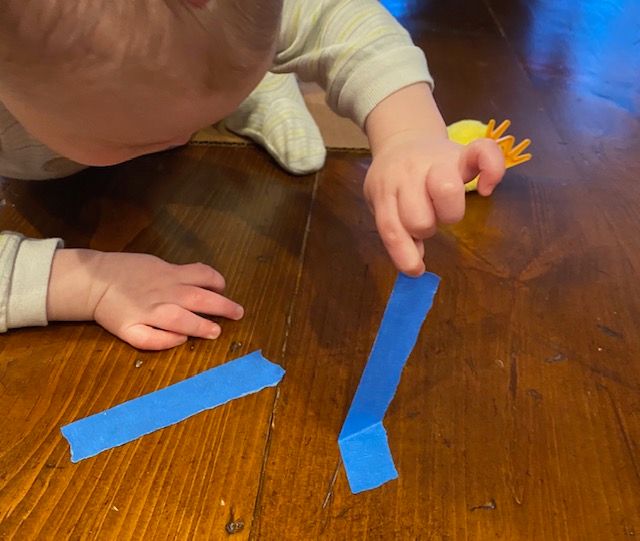 Children have a lot of fun with tape. Here are a few activities that you can do with your child that use blue painter's tape, which comes up easily. 
Younger Children (0-3):
·  Place a few strips of tape onto the floor or onto your child's highchair tray.  Encourage them to pull the strips off. This is a great way to help young children enhance their fine motor skills through focused attention on small muscle movements.
·  Sit next to them as they work on pulling the tape up and use "noticing" language as they engage.  A fun way to think about this, is that you are a sportscaster and it's your job to give a play-by-play narrative of what they are doing.  This not only provides added connection time with your child, but also gives them a language-rich experience. An example might sound like: "You are focused on that little corner of the tape…Ohhh, now you are pulling it up! You did it! Nice job." 
Older Children (3-5):
·  For this activity, you will need tape, toy cars and some imagination! Use the tape on the floor and design different roadways.  Kids will love "driving" the cars up and down and turning the corners. 
·  Another idea is to create a maze on the floor with the tape.  Have your child walk through to get to the end. As your child moves their cars, or their bodies, through the lines, narrate as they go, using positional language such as:
 "going straight"
"turning to the right"
 "turning to the left"
 "going backwards"
________________________
Los niños se divierten mucho con cinta adhesiva. Estas son algunas actividades que usted puede hacer con su hijo/a usando la cinta de pintor azul, que se quita fácilmente.
Niños Menores de Edad:
·  Coloque algunas tiras de cinta adhesiva en el suelo o en la charola de la silla alta de su hijo/a. Anime a su hijo/a a que quite las tiras. Esta es una manera excelente de ayudar a los niños pequeños a mejorar sus habilidades motrices enfocando la atención del niño en movimientos musculares pequeños. 
·  Siéntese junto a ellos mientras ellos/as quitan la cinta hacia arriba y use el lenguaje "observando" mientras que ellos participan.Una forma divertida de pensar en esto, es imaginar que eres un comentarista deportivo y es su trabajo dar una narración de lo que están haciendo. Esto no solo proporciona tiempo de conexión adicional con su hijo, sino que también les da un experiencia profunda en el idioma. Por ejemplo: "Te estás concentrado en la esquina de la cinta…y ahora, estás moviendo la cinta hacia arriba ¡Lo hiciste! Hiciste un buen trabajo."
 
Niños Mayores:
·  ¡Para esta actividad necesitarás cinta adhesiva, coches de juguete e imaginación! Use la cinta en el suelo y diseñe diferentes caminos. Los niños amaran "conducir" los coches por subidas y bajadas y dando vueltas.
·  Otra idea es crear un laberinto en el suelo con la cinta. Haga que su hijo pase por el laberinto hasta llegar al final. Mientras su hijo mueve los coches de juguete, o su propio cuerpo, a través de las líneas, vaya narrando cómo ellos se mueven, usando lenguaje posicional como: 
 "Ve en línea recta " O "Ve derecho" 
 "Vuelta a la derecha"
"Vuelta a la izquierda"
"Vete hacia atrás"