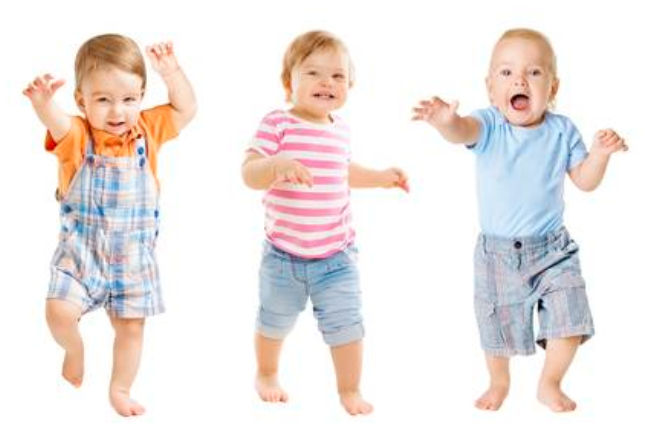 Our bodies are made to move, and movement is required for children's brains to fully develop. Movement and exercise tell our brains to release chemicals that help reduce stress and regulate mood and behavior.  Any game that requires controlling impulse and movements can help kids increase their control over their own thoughts, emotional responses and actions, which are fundamental skills required in self-regulation.
The freeze game
This activity works with all ages, it will just look different with younger children.
1) Play some music. Think about music that has different beats and tempos such as rock and roll, classical, a march, Latin rhythms, a waltz, etc. Mix it up between fast and slow music to teach your child about different types of music.
2) Tell the child to move or dance anyway they want to the music. Encourage and model varying types of movements such as fast, slow, spinning, hopping, twirling. Once you stop the music, they must "freeze" in that position until the music starts playing again.
**For younger children, hold them in your arms so that they feel your body when you freeze. Young kiddos don't have the ability to control their body like that, but it is a great opportunity to have it modeled for them. Also, keep in mind that this is an emerging skill for children, and they might not always be successful at keeping their body still. That is okay! That is why we keep playing and give them more opportunities for mastery.
Use both short and long periods of time between when you stop the music. When you give children more time to move to the music, they will lose their inhibitions and be more creative in their movement.
So much of learning comes through play. As you spend time moving and dancing with your child,  know that these fun times are building many skills, such as: 
Math skills: counting beats, steps, twirls
Language skills: singing along, rhyming, clapping out sounds
Listening skills: listening to the music and when they need to stop and move
¡Pon música y muévete!
La actividad de esta semana puede parecer "muy simple" pero les aseguro, está llena de oportunidades de aprendizaje.
Nuestros cuerpos están hechos para movernos, y el movimiento es necesario para que el cerebro de los niños se desarrolle adecuadamente. El movimiento y el ejercicio le dice a nuestro cerebro que libere los químicos que  ayudan a reducir el estrés y ayudan a regular el estado de ánimo y comportamiento. Cualquier juego que requiere el control de los impulsos y movimientos puede ayudar a los niños a mejorar el control de sus pensamientos, respuestas emocionales, habilidades que son fundamentales en la autorregulación.
El juego de congelado
Esta actividad sirve para todas las edades, solo que se ve diferente para los niños más pequeños.
Ponga música - Piense en música que tenga diferentes ritmos y tempos como por ejemplo rock and roll, clásica, marchas, ritmos latino americanos, un vals, etc. Haga una mezcla de música rápida y lenta para enseñarle a los niños los diferentes tipos de música.
 Dígale a su niño que baile de cualquier forma al ritmo de la música. Anime a su niño y modele diferentes movimientos rápidos y lentos, dando vueltas, saltando, y dando giros. Una vez que usted para la música, ellos deben "congelarse" en esa posición hasta que la música comience otra vez.
**Para los niños pequeños, tómelos en brazos, para que sientan cuando su cuerpo está "congelado." Los niños más pequeños no tienen la habilidad para controlar sus cuerpos de esa forma, pero es una buena oportunidad para modelar esa habilidad. También es importante recordar que esta es una habilidad emergente para los niños y no siempre van a ser capaces de mantener su cuerpo sin moverse. Y esta bien!! Por eso jugamos, para seguir dándoles la oportunidad de aprender.
Use periodos largos y cortos cuando pare la música. Cuando usted les da más tiempo a los niños para moverse al ritmo de la música ellos comienzan a bailar sin inhibición y comienzan a ser más creativos con sus movimientos.
Hay tanto aprendizaje a través del juego. A medida que usted se toma el tiempo de moverse y bailar con su niño, sepa que este tiempo entretenido están ayudando a desarrollar habilidades como: 
Habilidades matemáticas: contando los ritmos musicales, pasos y giros
Habilidades de lenguaje: cantando con la música, rimas, aplaudiendo las sílabas
Habilidades para escuchar: Escuchar la música para saber cuando se necesita parar y cuándo moverse.