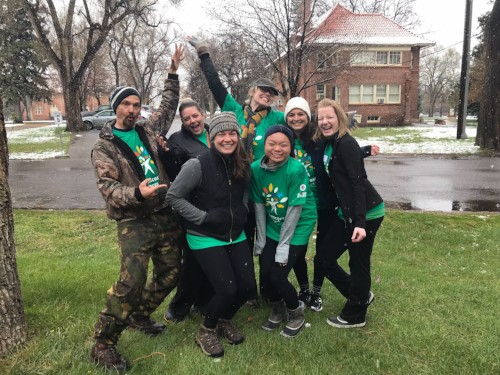 In the early morning of April 21, 80 volunteers from Comcast and 40 Clayton staff volunteers gathered at the Historic Clayton Campus for Comcast Cares Day - the nation's largest single-day corporate volunteer effort and a powerful representation of the company's year-round commitment to community service.
Despite the spring snowstorm that welcomed volunteers, the 6th annual Comcast Cares Day at Clayton Early Learning was a productive day of service, thanks to the enthusiasm and dedication of volunteers. Indoor and outdoor projects completed this year included:
-Laid over 1,000 square feet of sod
-Built a memorial picnic space in honor of a former Clayton student
-Prepared 20 garden beds for planting
-Built child-sized Adirondack chairs for common areas throughout the school
-Weeded and refreshed outdoor learning spaces
To learn more about Comcast Cares Day and their nationwide day of service, visit https://corporate.comcast.com/stories/my-favorite-day-of-the-year-comcast-cares-day
Visit the Clayton Facebook page to see pictures from Comcast Cares at Clayton Early Learning on April 21!