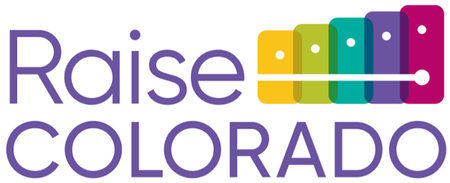 Raise Colorado supports all Colorado's children and families during the prenatal period through the earliest years to ensure healthier communities, a stronger workforce, and a more robust economy now and into the future.  Since 2018, Clayton Early Learning has co-convened the statewide Raise Colorado Coalition (formerly the Prenatal, Infant, Toddler Coalition) along with the Colorado Children's Campaign and a steering committee of diverse stakeholders. Raise Colorado takes collective action to promote bold public policy and change public perception regarding the health and well being of pregnant people, new families, infants, and toddlers.
Raise Colorado is made possible with the support of ZERO TO THREE's Think Babies™ campaign, a national movement designed to bring attention to the many issues that affect what babies and families need to thrive. Key campaign priorities include: quality, affordable child care; time for parents to bond with their babies; healthy emotional development; and strong physical health and nutrition.
Working closely together, we develop and implement campaigns that advance policies benefiting infants and toddlers including:
Increasing access to affordable, quality child care for infants and toddlers;
Expanding access to voluntary, evidence-based home visiting for families with infants and toddlers;
Improving access to family screenings, referrals and linkages to supportive resources;
Developing a paid family leave policy to support new parents after birth or adoption;
Increasing access to early childhood mental health services; and
Enhancing and expanding healthy nutrition and obesity prevention initiatives for infants and toddlers.
Join the team that is fighting for the future of Colorado's children!  Visit www.raisecolorado.org
Learn more about Think Babies and sign-up to take action!
Read the report "Diverse Colorado Voices: Community-Based Solutions for the Perinatal Period"
Strolling Thunder
Each year in the Fall, Clayton Early Learning and Colorado Children's Campaign, in partnership with ZERO TO THREE, host our annual Strolling Thunder™ Colorado Advocacy Day. We partner with families from across the state to meet with policymakers and let them know that they must Think Babies™ - for stronger families, vibrant communities, and a prosperous country.
Follow Us
Follow us on Facebook (@ClaytonEarlyLearning), Twitter (@ClaytonLearning) and Instagram (@ClaytonEarlyLearning) for LIVE updates from Strolling Thunder™ and to learn more about the Think Babies™ movement. We invite you to share and retweet our posts, tag Clayton and use these event hashtags - #StrollingThunderCO and #ThinkBabies
Questions? Contact Christina Walker, Director, Policy & Advocacy, or visit the Strolling Thunder Colorado Facebook page.